Business Champions 2010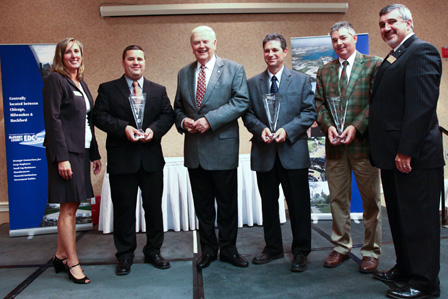 Photo L to R: Pam Cumpata – President EDC,  Mark Satterson – Jan Air, Orion Samuelson – WGN Keynote Speaker,
Otto Dschida – Astro Craft, Craig Weidner -Scot Forge, Jim Thorpe – EDC Chairman of the Board.
Congratulations to the 2010 Business Champions
Division III – Small
Astro Craft, Spring Grove, IL
Astro Craft is an outstanding company encompassing 19 employees with almost 200 years of experience.  From a modest 3,500 sq. ft. facility in 1968, they provided prototype and production part orders to the automotive service, spray painting, packaging and copying equipment industries.
They installed their first numerically controlled machine in 1974 and expanded to a 10,000-square foot facility featuring a combination of 10 computer controlled mills and lathes. In the late 1980's, Astro Craft's customer base included the communications, healthcare, high-speed packaging, and aerospace industries.
This past year, they too were challenged to manage their business through an incredibly unpredictable manufacturing business climate.  Realizing they were not going to be able to employ a 'normal mode' of business, they decided to embark on a Continuous Improve Process. They used the slow down time to re-invest in their facility, train employees, step up customer service, and enhance their image.
A proud family owned company, Otto, Ed and Rich Dschida are co-owners.  Please visit their website to learn more about Astro Craft and their capabilities. www.astrocraft.com
Division II – Medium
Jan-Air, Inc., Richmond, IL
Jan-Air Inc. was founded in Richmond 1949 with its focus on producing high-quality and affordable air movement products.  It  serves many industries including farm, construction & mining, and has many product specialties such as ovens, environmental chambers, generators, dust collectors, paper conveyors, computer board soldering chambers, industrial heating, AC units, and air knife/blow-off systems to name a few.
They have a strong commitment to investing in state-of-the-art manufacturing machinery and software. In 2008, a major 12,000 square-foot building addition and Trumpf TruLaser were added to the Jan-Air facility bringing the total square footage of the Jan-Air facility to 31,800.  They continue to add major equipment and a significant amount of work and investment has also been devoted to the overall digitalization and automation of the company through the use of CAD and CAM software.
Jan Air faced with the negative impact of the economy and the bottom dropping out of their core business head on.  Weekly meeting with employees were held to discuss the business climate, production flow and facility improvements.  They are now focusing on new equipment for process improvements.
Mark Satterson, President began working for Jan-Air in 1984 and purchased the company in 2005. Jan-Air is located in Richmond and has consistently employed 20 plus people for 61 years. Visit their website www.jan-air.com to learn more.
Division I – Large
Scot Forge Company, Spring Grove, IL
Scot Forge is a 100% Employee-Owned manufacturer of custom open die and rolled ring  forgings. Founded over 100 years ago, it has been in McHenry County for 32 years.  They have over 100 years of experience shaping, machining and heat treating forgings weighing from 5 to 80,000 pounds in carbon alloy, stainless, copper-based alloys and other ferrous and non ferrous materials and ship over 200 million pounds of forgings annually.
Virtually every metalworking industry has used Scot Forge parts including heavy construction and equipment, mining, power generation, defense, shipbuilding, machine tool, fabrication, engine and turbine, transportation, oil fields and primary metals.  Known as an industry leader with one of the most modern, progressive and respected forging companies with over 1,000,000 square feet of manufacturing space in five locations.
During this last year, Scot Forge expanded its Spring Grove location by building an addition for new machinery, a new quality inspection area, larger shipping and receiving capabilities and updated laboratory facilities. New machinery, more capabilities and updated laboratory space has positioned them to seek new industries (nuclear and aerospace) to add to the over 20 different markets currently served.  Scot Forge's five year vision includes more capital investment in equipment, software, and employees with a broad range of skills; engineers, technical sales, quality, metallurgy, production planning, IT, to skilled and unskilled labor positions.  They believe in investing in training and skill building which provides them with a skilled, cross-trained and teamwork based workforce.
Located in Spring Grove, they have over 300 employees with more to come. Please visit their website at: www.scotforge.com.