2011 MCEDC Business Champion Award Winners
McHenry County Economic Development (MCEDC) is pleased to announce the 2011 Business Champion Award winners.
Pictured L-R: Larry O'Conor, Jr. Other World Computing, Aric & Sean Slavin, Dordan Manufacturing, Don Wallin, Joule Technologies,
Pam Cumpata, MCEDC and Doug Oberhelman, Caterpillar
For the past four years, MCEDC has recognized outstanding companies who have positively contributed to McHenry County's economy and who have exhibited business acumen and vision. Judging is conducted by a panel of 9 independent and unbiased business leaders residing outside of McHenry County.
Ann Willits, MCEDC Business Champion Task Force chair, who announced the awards at the recent MCEDC Annual Dinner, commented that the selection process was very challenging with consistently high scores for all nominees.
Congratulations to the 2011 Business Champions
Category 1 (less than 25 employees) – Joule Technologies, McHenry, IL
Category 2 (25 to 100 employees) – Dordan Manufacturing Company, Woodstock, IL
Category 3 (over 100 employees) – Other World Computing, Woodstock, IL
---
Joule Technologies, McHenry,  was selected in Category 1 (less than 25 employees).  Recognized for having a corporate philosophy that embraces a culture for learning, Joule Technology capitalized on this philosophy by adopting new methods of planning, design, and management.  By moving from a traditional production model to the non-traditional employee-managed Self Directed Work Teams, they are making strides toward their five-year plan of creating an "awesome stakeholder experience".   By including their employee base among their stakeholders (90% of whom reside in McHenry County), they empowered their workforce to be directly invested in their customers' experience of the company which is resulting in a bright future of growth.  This company has been in business in McHenry for 12 years and contributes its growth to the access it has to excellent logistics as well as a dedicated workforce.
In the mid-size company category of 25 to 100 employees, Dordan Manufacturing Company,Woodstock, is the 2011 Business Champion.  It was apparent that Dordan understands the importance of employing locally while staying economically competitive.  Their proactive "green" approach to recycling in 2009 resulted in industry-initiated dialogue that increased media attention, facilitated business inquiries, and grew revenues that by extension improved exposure and economic growth for McHenry County.  With a 5-year plan of achieving ISO certification, Dordan is looking to expand into the medical and pharmaceutical markets.  Our champion believes in the economic sustainability of community demonstrated by, for example, extending an invitation to a local organics farmer to use a portion of its land to grow produce for local consumption facilitating a closed-loop economic relationship between business and residents of McHenry County.
Other World Computing, Woodstock, is the winner in the large category (over 100 employees).  They have being doing business in McHenry County for over 20 years and chooses to remain in the county because of the unique opportunities for growth supported by a forward-thinking business and educational climate.  Not only does the company value a forward-thinking approach, but it also walks-the-walk – their company facility achieved LEED certification at the Platinum level in 2010.  Their investment doesn't stop at their building, however.  Their approach to our ever-changing market was to find local talent and invest in it.  In addition, they strive to find ways to inspire their workforce to keep up with emerging technologies.  This has helped them stay on top of changing technological trends.  With 76% of its workforce being McHenry county residents, this business champion has a local focus, in spite of serving customers in over 170 countries, and takes great pride as a major contributor to the revenue stream it provides the county.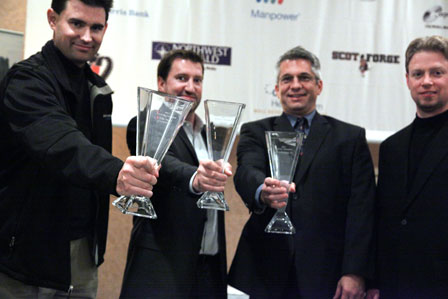 Pictured L-R: Larry O'Connor, Jr. Other World Computing, Aric Slavin, Dordan Manufacturing, Don Wallin, Joule Technologies, Sean Slavin, Dordan Manufacturing
Congratulations to all of the nominees for the 2011 Business Champion Award who were introduced to the over 500 attendees at the MCEC Annual Dinner on November 3rd. The three award winners Joule Technologies, Dordan Manufacturing and Other World Computing received their awards from Doug Oberhelman, CEO of Caterpillar, and MCEDC President Pam Cumpata.