2008 Business Champion Award
MCEDC 2008 Business Champions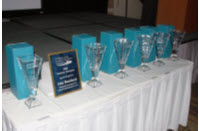 MCEDC's Business Champion Awards!  Congratulations to all of our finalists in this exciting contest. McHenry County is fortunate to have so many outstanding and truly unique companies with a tremendous amount of expertise and business acumen.  Our judges advised us that it was a very difficult endeavor and they wished their counties had such outstanding corporate citizens!
Congratulations to all of our winners!
Individual Business Champion – Mike Eesley, Centegra Health System
Mike has made a profound difference to our community since he joined Centegra Health System in 1999. A strong leader with strategic vision he has led his team to multiple nationally-recognized awards. A shining example of his commitment and dedication, the legacy of Leadership Greater McHenry County will have far reaching affects on McHenry County.
Individual Business Champion – Special Recognition, John Blanchard, National Association of Systems Administrators
John created NASA Education in 1999, a nonprofit to offer tuition for worthy individuals. It now provides actual job training for U.S. veterans who are displaced, disabled, homeless or in transition. He also sponsors Stand Down for Veterans which provides many services to McHenry County Veterans.
Pioneer Center for Human Services – CEO, Lorraine Kopczynski
This non-profit organization offers counseling, vocational training, rehabilitation and other services to adults and children with mental illnesses and developmental disabilities. Pioneer also operates McHenry County's largest emergency housing program for the homeless and the county's only certified sexual assault services program for adults.
Other World Computing – CEO, Larry O'Connor
A division of New Concepts Development Corp., OWC provides hardware products to the computer industry, and through its e-commerce portal, www.macsales.com, features one of the largest online catalogs of computer and iPod enhancement products available to support the latest Apple models as well as vintage Macs still in use.
Prairie Ridge Media- CEO, Carla Housh
This Cary-based company publishes the regional glossy magazine, McHenry County Living, which celebrates the good life in McHenry County by chronicling the people, places, events and history that make McHenry County a great place to live, and Incident Prevention, a b-to-b publication with corresponding conferences and trade shows.
TRANSPORTATION CHAMPION AWARDS were presented to Congressman Don Manzullo and Congresswoman Melissa Bean by MCEDC Chairman of the Board, Dr. Walt Packard. Gary Overbay, Vice Chairman of the MCEDC Transportation and Infrastructure introduced the legislators and explained the awards.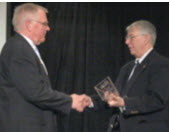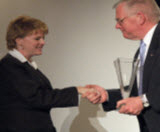 The MCEDC was founded on the transportation crisis in Algonquin and transportation has been a key focus of our organization since that time. Both Congressman Manzullo and Congresswoman Bean joined in with enthusiasm and untold effort to help us as soon as they took office and saw our needs. We have gone repeatedly to them for help, and we have always found hard work and effort on behalf of McHenry County. The struggle to modernize our transportation infrastructure will take many years, but it is a comfort to know that both Don and Melissa will work tirelessly to help us all along the way. MCEDC sincerely thanks Congressman Manzullo and Congresswoman Bean our MCEDC Transportation Champions!